We are glad to meet you on our official website Perfect Silk LashesTM !


Perfect Silk LashesTM is a unique NEW possibility to own long, thicker, gorgeous and attractive eyelashes! Imagine that Your eyelashes became 2 or even 3 times longer and thicker! It is every woman's dream! We will help you to fulfill Your dream!

Perfect Silk LashesTM have a natural look due to One by One extension system. Their length and curl will make your facial expression unforgettable and refined!





The wide assortment of Perfect Silk LashesTM gives you a chance to combine its color and length!

With Perfect Silk LashesTM You can sleep, take a shower, go to spa, swim and sunbath worry free about your eyelashes. You can enjoy having long, thicker and beautiful lashes 24hours a day.

Perfect Silk LashesTM - it is a naturally easy with no sense of discomfort!





The Perfect Silk LashesTM production has been executed on the «Japanese standard» basis. This is a completely new notion, which is conformable with "German quality" and "American marketing".




What a «Japanese standard» is? This is:

- an ability to accumulate a useful experience,

- rational approaches,

- next to none in technologies,

- real Japanese quality.

This is how the perfection is born, The Pink of Perfection!

The Perfect Silk LashesTM Trade Mark began its ascension in 2007 and it has already won the worldwide recognition. Production of this trade mark is available already in Byelorussia, Germany, Denmark, Latvia, Lithuania, Norway, Poland, Turkey, Ukraine, Finland, Sweden, Estonia, Italy, France, Belgium, Slovakia, Ireland.



More information about eyelash extensions you can

get here...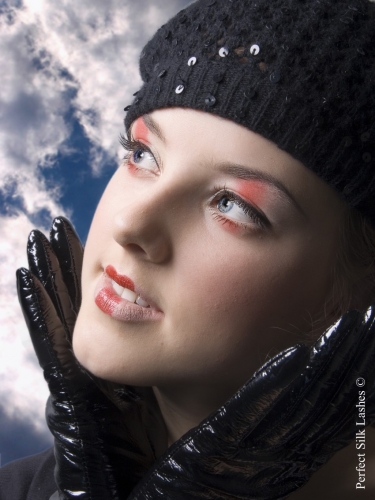 From women's POINT OF view...
Women who strive for perfection are breaking all barriers, beauty industries are working towards dreams which several decades ago seemed unreal, but now have become real. In a few days you can change your face and body features; in a few hours you can make your hair and nails long and you will never see the difference. At the current moment, the most popular item is eyelash extension!
Nature gave us eyelashes which serves as a barrier to protect our eyes from dust, but humanity has found a romantic base in addition to protection.
Undoubtedly, beautiful eyelashes become long and fluffy!!!
Many women are dissatisfied with their natural eyelashes and after time, eyelashes lose their strength and dissatisfaction grows. For a long time, women used decorative eyelashes (glued to eyelids) for special occasions. These lashes looked theatrical and are used with colored make-up and they don't last a long time (from 1 to 3 days). Decorative eyelashes were used for special occasions and wasn't acceptable for everyday use.
What to do if you want long lashes and feel confident that they won't fall off? The answer is silk eyelash extensions, which is becoming more and more popular. This special technology gives you the opportunity to wear beautiful eyelashes which looks natural, and gives you comfort. You can wear them from 2 weeks up to 3 months (it depends on your eyelash life cycle). With silk eyelashes women will feel natural and free.
Silk eyelash extensions can be done in beauty salons or by private experts. You can make flare eyelash extensions or silk eyelashes. Flare eyelash extensions are easier, cheaper and you can wear them for only a short time. The only downside of these eyelashes are that they are falling out the same way you glue them - in flare, and you can wear them just 2 - 5 days.
Dreams can come true...

Professional extension technique - it's a very difficult jeweler work. Experts has to have "gold arms" and "lots of patience" (the results depend on these reasons). If this job is done with high level and follows all terms, the results will be magnificent and will serve for a long time.
Eyelash extension procedures does not hurt, they are glued on top of eyelid and from the inner eye corner. Silk eyelash extensions are glued onto your natural eyelashes, make certain to always leave a distance from your eyelash root, from 0.5 - 1 mm.
You can put mascara on eyelashes but usually it's not needed. If you remove make-up from eyelashes, the natural eyelashes may fall off and the extended silk eyelash "life" is shorter. Silk eyelash correction is recommended after 2-3 weeks. Experts are making correction in this pace where natural eyelash with extended eyelash fell off or the extended eyelashes are glued on the natural eyelashes. It is important that experts in eyelash extensions has experience and good taste - then he can make your eye more visible or change the shape of the eye, or just extend different lengths of eyelashes. It is most popular to extend the eyelash transition from short to long, just place the longer eyelash onto the outer edge of the eyelid (be aware that it is not recommended to extend eyelashes close to the inside of the eyelid because it may cause discomfort).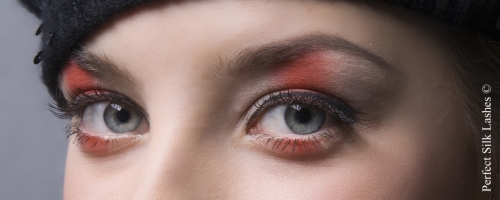 Note...

There are some important facts you should pay attention to:
If you have straight eyelashes it is recommended at least one day before extending silk eyelashes, to make eyelash chemical curling to natural eyelashes and then extended eyelashes will have the same curve. If you have light eyelashes, it's better to color them black, in order to be the same color as silk lashes. If you wear contact lenses, they must be removed prior to procedure. Certainly before procedure, ask expert questions about eyelash extensions.
When you extend silk eyelashes for first time, don't choose too long or too thick, because it can cause discomfort, it's better to get use to them in beginning - extend the short one. But when eyes get use to eyelash extensions you can use your fantasy and make them way you want to.
Note, after you extend eyelashes, modeling composition (glue) totally becomes dry after 6-8 hours. During this period don't wash eyes, don't use eye gel or mascara, don't go into wet or steam room. After your eyelash extensions, your every day routine will go on as usual. Don't worry about eyelashes, you can take showers, go swimming in the pool, sea, sauna, SPA center. You can now enjoy long, beautiful, bushy eyelashes 24 hours per day!
Eyelash extensions fall out with natural eyelashes. The average eyelash life cycle is 90 days, because, fortunately eyelashes are changing gradually.

Choice...

Eyelash extensions materials are made in the USA, Swiss, Japan, Korea, and Germany. One class of products has one quality, which country to chose from is an expert choice. At this moment, the leader in eyelash extension materials is European brand Perfect Silk LashesTM.
It's high quality and eyelash extended security. Wide range of products gives expert opportunity to make own choice in choosing this brand.
Copyright © 2009 GALATEJA SIA.